Berkshire Hathaway - Munger said he has never helped the county (Berkshire Hathaway) do anything as excellent as BYD, and it is only once. The initial investment of the county in BYD is now worth about 8 to 9 billion US dollars, which is a pretty good return. He said that based on BYD's current stock price, its market value exceeds that of BMW, which indicates that BYD is not a cheap stock, but a very outstanding company.
He said that BYD's after-tax profit in the Chinese automotive industry last year exceeded $2 billion, which is unbelievable. When asked whether he prefers BYD or Tesla as an investment, Munger said the answer is simple. Tesla cut prices twice in China last year, while BYD raised prices, indicating that BYD is far ahead of Tesla in China, which is "almost absurd."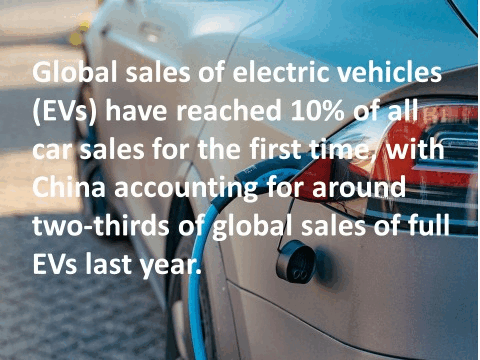 Global sales of electric vehicles (EVs) have reached 10% of all car sales for the first time, with China accounting for around two-thirds of global sales of full EVs last year.
The data from LMC Automotive and EV-Volumes.com shows that China's share of EV sales reached 19% domestically, while Europe accounted for 11%. The sales decreased by 8 percent in the US and 7 percent in Europe but rose by 4 percent in China.
Global sales of full EVs totaled around 7.8 million units, a 68% increase from the previous year. Meanwhile, the overall global sales of vehicles fell 1% last year to 80.6 million units.
US auto makers sold 807,180 full EVs last year in the domestic market and raised the share of EVs to 5.8 percent of all vehicles sold, up from 3.2 percent in 2021. "Last year, every fourth vehicle we sold in China was a plug-in, and this year it will be every third auto," Brandstatter said. "We haven't reached the tipping point yet, but we're expecting to get there between 2025 and 2030."